Guest Post by Shannon.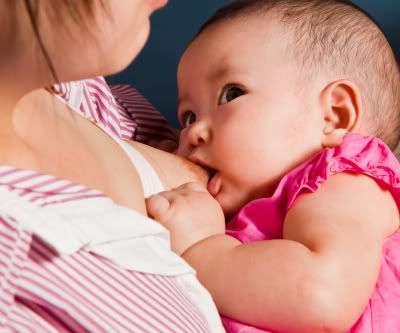 There is no valid reason why breastfeeding one's infant should be relegated to a bathroom or other out of the way location. It should be a basic human right to breastfeed wherever one is comfortable doing so, regardless how public. One would not expect a bottle-feeding mother or one who is feeding the baby solid food to do so in a bathroom, and feeding at the breast is essentially the same thing.
Would the person who objects to public breastfeeding be willing to take his or her dinner into the bathroom to eat it? Probably not. Then why on earth would that person want to force a helpless infant to have to eat there? Just as that person has no problem with anyone else eating in public, there is no reason for the infant in question not to be allowed to eat in public. The breasts of a woman are meant to provide sustenance to her baby, and for her to use them that way is completely within the realm of propriety, even in public places.
The main reason many say they object to the practice is because a woman's breasts have been so sexualized that even the slightest glimpse of a baby attached to one has become scandalous – and yet many of those same people who assert their objection will go to a beach and purposefully ogle (or show) much more flesh than the average breastfeeding woman shows.
For breastfeeding in a public place to be offensive is ludicrous. If someone is uncomfortable with the situation, that person is certainly within his or her rights to leave the vicinity of the breastfeeding mother. He or she is welcome to avert his or her eyes and look elsewhere. However, for that person to try to force a negative opinion on someone who is simply doing what she feels is best for her child is beyond the scope of the objecting person's rights.
There are so many places that strive to be "politically correct" that have stated that women may not breastfeed on their premises, and, as long as that is posted, that is the right of the proprietor of the establishment. However, public places such as parks and restaurants (where people go to eat) should be places where a breastfeeding mom can feed her child without fear of attack. For a restaurant to refuse to allow an infant to eat where everyone else is allowed (and urged) to eat is absurd.
On top of all of that, however, the law in the United States is actually pro-breastfeeding. One federal law, added in 1999, says that "a woman may breastfeed her child at any location in a federal building or on federal property, if the woman and her child are otherwise authorized to be present at the location."
Another act requires employers to allow employees to breastfeed, requiring them to provide a private place other than a bathroom. By 2009, 47 states had passed laws either allowing women the right to publicly breastfeed, or disallowing prosecution of them for indecency.
Breastfeeding is an important part of growing an infant, and for parents to be denied this simply because of location is just wrong.
About The Author
Shannon is a mom of two and a member of http://www.pregnancygroup.org
Image credit: koratmember / FreeDigitalPhotos.net